JUNIOR ART ACADEMY (JAC)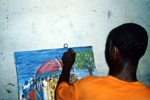 JAC is not only a strong back bone to the community but acts as an essential social support system focused on not only educating our youth but also providing social skills, communication skills ,computer literacy and exposure basic life necessities to enhance our communities as a whole. The Junior Art Academy falls under this umbrella targeted at exposing and educating our youth in fundamental areas that might not be covered in our traditional education system but is necessary to compete in this morden high-tech society. At a time when more children are spending the time between 2 and 6 p.m. unsupervised, the need for quality after-school programming is great. A quality after-school, or summer program can provide a safe place for kids and additional learning opportunities. JAC provides many resources to help every stage of development coupled with creative ways to improve the skills of children.
Critical Hours, After-School Programs and Educational Success
The Junior Art Academy is designed to build the key skills necessary for success in today's economy. Children benefit from consistent participation in well-run, quality after-school programs; after-school programs can increase engagement in learning; after-school programs can increase educational equity; and after-school programs can Critical Hours also examines three of the most common approaches to enhancing the academic impact of programs: homework time, linkages with the school day, and literacy development.
Creating Effective After-School Programs
Strong programs are the result of careful planning and a strong vision. The Junior Art Academy's curriculum has been carefully orchestrated to help juveniles find resources on the many different aspects of programming, such as safety, health and nutrition, parent involvement, project design, and finding potential partners for collaboration. The purpose of the program is to provide children with additional education experiences, to raise their interest, and to open their eyes to potential career opportunities in the fields of science mathematics, art, and explore JAC different creative avenues.
Academic Enrichment Activities
JAC will create Academic Enrichment Projects to help establish a framework for afterschool programs to spark adolescent thinking to create new activities or to draw out the high-quality components in activities they are, already doing. This includes homework assistance, school projects, or just the basic obstacles children face in their every day.
JAC academy is a comprehensive after-school program that isintegrated into the regular school program and other family support systems within the community can yield positive outcomes for students and their families.